No video today because I don't want to give away too many of his secrets.
Are you looking to make extra money? Have you been getting ads promising you from $100 – $10,000 a day for little or no effort? Seen videos featuring beautiful men and women in expensive cars, taking off in private planes and going once around the Mediterranean in a $1,000,000 boat? Sounds too good to be true, huh. That's because it probably is.
This is Part Three of our Affiliate Marketing Walkthrough – Step 3. Making your landing page. If you missed Part 1 – find it here.  Part 2 is here.
Log in to your Influx account and select Landing Page from the menu on the left.
The basics of making a landing page. Go the GrooveFunnels.com and signup. GrooveFunnel is a completely free funnel system that never needs a credit card i.e. they give you three funnels/landing pages for free.  Click on "Get Started" and fill in the GrooveFunnels Account Information form.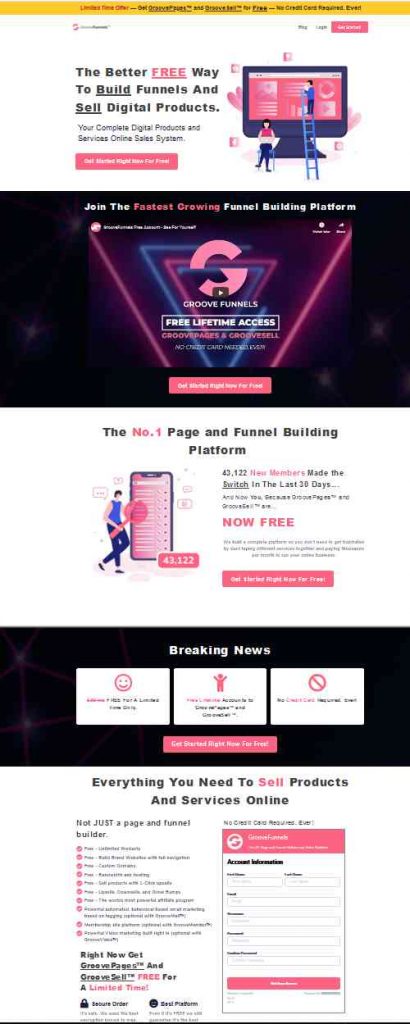 When you finish the signup, login and see this page:
Click on "Groove Funnels" –> "Groove Pages" and then the pink "New Site" button. As I watch him creating his landing page, I now realise I didn't finish the last section. Apparently I should have selected an offer and applied to "affiliate" sell it. The last video was the Traffic Dominator's video – I applied for an account and was given one, but there is a LOT of training to go through before I can get to the pages Frankie was showing. SO forgive me while I finish that and then I can choose an appropriate offer. It's important to me to sell something that means something to me – something I can value, so I might need a few days to get this together.  See you Tuesday…
Don't forget – if you want to join me – click on the picture below to buy Influx (cheap as chips) and we can work through it together. (And don't forget to wave your mouse around to get the 15% discount dropdown offer and only pay $7.95!!
It looks like my Bush cabin is taking a little longer today…!
See you Tuesday…
Hang in there, newbies.