Are you looking to make extra money? Have you been getting ads promising you from $100 – $10,000 a day for little or no effort? Seen videos featuring beautiful men and women in expensive cars, taking off in private planes and going once around the Mediterranean in a $1,000,000 boat? Sounds too good to be true, huh. That's because it probably is.
I'm currently pretty desperate for money and I'm sick of doing surveys for 60 cents for 20 minutes of my time – so I'm ripe for the picking. I read each one of these and HOPE it's all true. I mean, they wouldn't lie to me, would they? I'm what you call a sucker… sorry, newbie – and most of their advertising assures me that their product is newbie-friendly.
I have been so confused over the past two months by the offers I've seen and the ones I've bought and couldn't figure out – but I WILL get back to – and the ones that just seemed down-right shonky when I got a good look at them – and the ones that just plain lied or omitted important information – for which I requested an immediate refund.
I thought I'd share the whole process with you to make your life easier.
Step 1 find a product you like. There are lots of ways to do this, but I'll get into all that in a separate post. There is also a way to compare "bonuses" before you buy.  Again – for later.
For this example, we're going with the one I was offered last night.
I received an email from someone of whom I'd never heard offering "Influx". I had a quick look, as I usually do, and thought, "Ok, that's interesting but I'm sick of paying out and getting nothing." And then I saw how cheap it was and thought it would serve for this example. So, let's all learn together what happens when you buy one of these.
The product page will promise you a lot — whilst giving very little actual information. These products are almost always under US$20 and the discount usually $4-5. This is the one we're buying, so… make sure you move your mouse away from the page as though you were going to click it off, and a discount window will (almost) always pop up. Click to accept the price reduction. There you go. You're finished, right? Heck, no.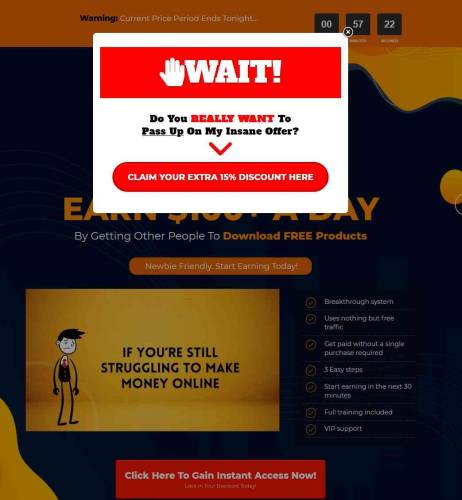 Another window will open with what they call the OTO (One time Offer #1). This is usually an update you really might need later on, but they knew they couldn't hook you if they charged full price straight up, initially. Also, it usually isn't a one time offer – they might nag you over and over about it as you use their system, or they might simply give you the option to buy it later. When you go to click away, a popup window appears offering you another discount or warning you'll be missing out. Click on the "NO" small print to get out. This page is often between $29-37.
Guess what, another page opens offering you OTO 2. The is often a DFY page. Wait, what??! "Done For You". They've already set it up so you just need to put your details in and get paid (maybe). This page is often around $97-$197. Usually, you can move the mouse to get offered another discount or another warning. Click the small print to get out.
Another page opens. OTO 3. I swear you have to have the patience of a saint to get through these! By now I'm bored and I've stopped reading this one… click the small print. Done right? No.
There are two more pages… OTO 4 & OTO 5. You'll notice they get progressively more and more expensive as you go through. I guess they figure they've got you and hope you'll go for the lot before you start. I don't.
The final sales page is from WarriorPlus – the Affiliate agency a lot of sellers use for their products. Enter your credit card details or select "Pay with Paypal" and click "checkout".
You have purchased Influx. WooHoo!
Check your email and you will find a receipt for your payment saying thank you, and giving you a link to access your purchase.
Click on the "Access Your Purchase" link and it will take you to the Influx site where you will have to create an account (using our same email) and add a password. Sometimes, they send you a password in the email, but you get the idea.
Create an account and then log in.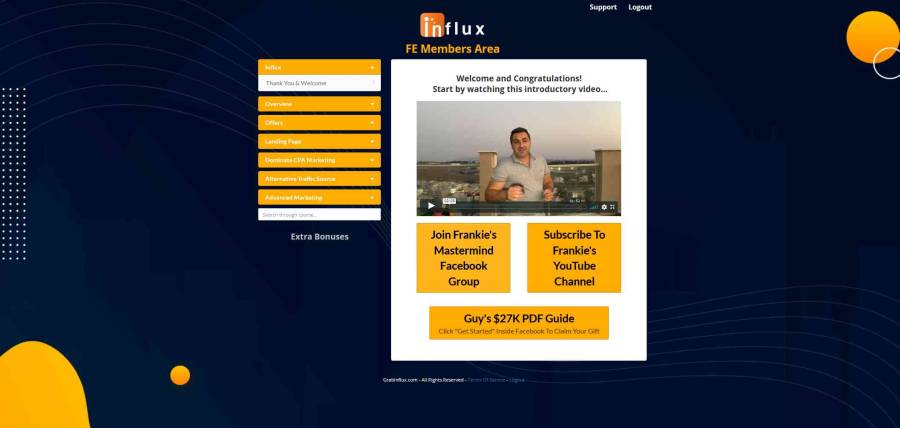 and another email telling you how to log in and how to get your bonuses.
The seller will often send another email offering you more "bonuses" than those advertised just for being on their mailing list. Sometimes (as in this case) they are worthwhile and a nice surprise, but sometimes they're just a new opportunity to sign up for something that, say, might have an ongoing cost. Always check the WarriorPlus small print on the order screen.
All that and we haven't even started yet. But here we go — our European holiday and million-dollar house awaits… I can't wait to get started. See you next post.